Best Recreational Cooking Schools around the World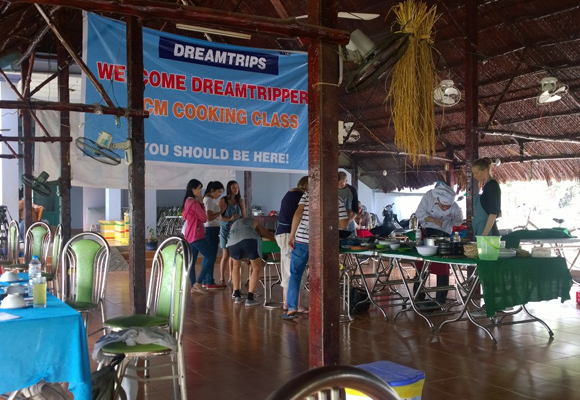 For those who love travel and cooking, combining the two is a natural when you are on vacation. Over the past 10 years the number of recreational cooking classes have skyrocketed as tourist travel to more exotic locations decide to add a day or more of cooking classes (which also include eating the meal they cook) to their agenda. While most the the classes around the world are taught to target the tourist with either a minimal amount of cooking skills or looking to provide a more relaxed and social environment. Some of these courses are quite good and we review them below.
We do emphasize using one of the established professional cooking schools where skilled chefs would go for classes to master or reinforce their culinary skills. Most of these schools now offer what is referred to as "Recreational Cooking Classes". Many of these cooking courses are taught by some of the great chefs in the world.
---
Saigon, Vietnam--
HCM (Ho Chi Min) Cooking Class- Vietnam is now one of the hottest travel destinations in the world and is noted for it's culinary cuisine. HCM cooking school is a professional culinary school which also gives classes to individuals and small groups. The founder and director i Mr. Luong Viet Tan who is a well know chef in Vietnam and by many chefs abroad. This is not just a cooking school but an Agriculture Center so students also learn extensively about the ingredients they use in preparation of their dishes. Chef Tan is a very friendly outgoing chef -- he loves the ability to share his understanding his dishes for many Professional chefs who want to open a Vietnamese Restaurant in their countries or He says: "For me Nothing to be secret -- The More people know my food ,The more happiness I get". What makes this school great is that his talent and those that work in his school provide the same expertise for visitors to Vietnam who simply want to do a one day cooking course and learning about the ingredients and methods of cooking Vietnamese Food. There is no wonder that HCM Cooking school maintains the number 1 rating for Best Cooking Schools in Saigon Vietnam. Website and Information. TripAdvisor Reviews for HCM Cooking Class.
Nice France -- (Cote d'Azur)--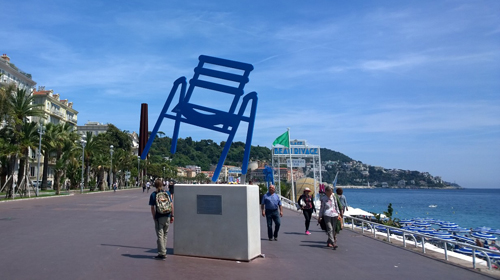 Nice France has an abundance of Recreational Cooking Courses taught by Chefs from some of Nice's most famous restaurants. The city itself is a great travel destination either as the primary location or in combination with other cities such as Paris.
Cooking Schools in Nice France
Christian Plumail --- After 19 years, Michelin-starred chef Christian Plumail closed his famed restaurant L'Univers, and has just started offering cooking classes in the the inner sanctum of his own apartment (just above his former restaurant). The morning start with coffee, then a shopping trip to the Cours Saleya Market, where, based on what's in season, he will formulate a starter, main and a dessert. Next, on with the aprons! He will take a maximum of 10 students, See Website
Luc Salsedo: Each Saturday at 9am, chef Luc Salsedo welcomes a tiny privileged group of just 2-3 into his kitchen. See more information
L'Ane Rouge in the Port offers a two-hour class for 60 euros or 180 euros, an intensive full day of cooking with Chef Michel Devillers. Course starts at 8am with a visit to the produce and fish markets.
Cuisine sur Cours- Is located in the Borriglione neighborhood near one of Nice's largest markets. The school is in a lovely loft kitchen. The instructor is Aude Bertaux - Tripadvisor-- See the Menu which changes seasonally.


San Sebastian, Spain ---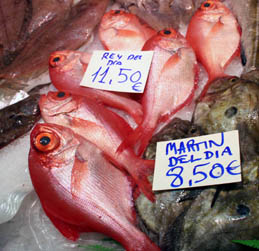 San Sebastian Cooking Class: Pintxos and Basque Cuisine- Immerse yourself in San Sebastian's renowned culinary culture during a 4-hour cooking class and market tour. Famed for its gastronomical prowess, the city of San Sebastian is rife with Michelin starred restaurants and traditional tapas joints; purchase fresh produce from a local market then master the techniques of 'pintxos' (Basque tapas) or Basque cuisine with an expert chef in a cookery school. Pleasure your palate with the fruits of your labor at the end of your class and impress friends and family with your newfound knowledge at home.
San Sebastian Food Cooking School --San Sebastian Food is a pioneering food company with departments devoted to cooking classes, gourmet retail, and culinary tourism. We are a family of twenty food and wine professionals, comprised of locals, experts and passionate foodies with an expansive knowledge base. Our classes, experiences, and retail offerings are authentic glimpses into the often secret local world of food, wine and culture. Read more about San Sebastian Cooking School-- See also San Sebastian Food at the Hotel Maria Cristina.
Bordeaux France-
Bordeaux is a Unesco World Heritage site having one the largest protected townscapes in France With the opening of its tramway network (making travel throughout the city much easier), and the regeneration of its left-bank quaysides giving onto the River Garonne, makes Bordeaux a great travel destination. Add to this all the great restaurants and being one of the greatest wine areas of the world.
L'Ecole de Cuisine -- Bordeaux France
Bordeaux, France
Tel: 00 33 5 56 90 91 92
Email: contact@ecoledubordeaux.com
L'Ecole de Cuisine is run from one of France's most historic and celebrated restaurants, Le Chapon Fin. Owned by the Cazes family - proprietors of the Lynch-Bages wine estate - the cookery side is designed and overseen by Michelin two-star chef, Thierry Marx. Run in English and French, it is open to amateurs and professionals alike. A sommelier is on hand to demonstrate wine and food harmony, and the course concentrates on typical south-western cooking.
Paris, France ---Le Cordon Bleu (Paris)
The unparalleled blend of tradition and dynamic modernity is what makes Paris so beautiful. Paris, the City of Light and capital of romance, has a unique historical heritage and an abundance of cultural sites, monuments and museums to be visited.
You can also discover the bistros, Michelin-starred restaurants and even stroll along the famous avenues nibbling a croissant or baguette. Take in the department stores or simply wander around the winding streets while shopping for fashion, home ware, luxury, high-tech goods and of course epicurean treats.
Le Cordon Bleu School, located on the left bank of the Seine in the renowned 15th district, is a 4-storey building with 2 demonstration rooms and 3 practical rooms. With more than 120 years of experience in teaching Culinary Arts, Le Cordon Bleu offers the ultimate culinary and hospitably training:
All year long, Le Cordon Bleu offers a wide variety of short culinary courses designed to appeal to a broad range of interests : pastry, cuisine, chocolate, sauce, ... Courses are either demonstrations (visual) or workshops (hands-on). short courses ..
Florence Italy -- Florence Culinary Art School, -- Florence is one of the most popular tourists' destinations, and by taking one step out of the class room, you will encounter countless foods, from traditional foods to foods of the latest trend. Foods offered to visitors and to city residents, foods offered at friends' house, ingredients that cannot be found in your own country, and all of these diverse foods will give you hints to know Italian cuisine deeper, and to know Italia itself. Short Summer Courses and Home Cooking Courses...1 day Courses
Venice Italy--
If you love cooking, Venice Italy is one of those places to rent and apartment nearby the Rialto Market and cook some meals in. The market is one of the best in the world with the freshest seafood.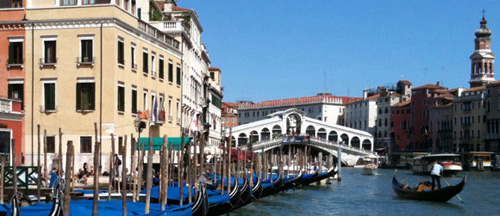 Enrica Rocca Cooking School -- Venice Italy -
Enrica Rocca opens her home, her heart and her passion to her clients when they attend her classes and wine pairings in the beautiful gothic city of Venice. The Venetian Contessa shares with you her talent for cooking simple yet delicious food, her knowledge of Venice and its produce, and her own excellent Prosecco, in her flamboyant and stylish loft apartment, by a canal in the heart of the Dorsoduro district. See Website
Santa Fe- New Mexico
- Santa Fe is one of America's great travel destination not just for the Art and nature but the food. Jew Mexico is know to have some of the best selection of peppers in the world so it is clear that the cuisine of Santa Fe would reflect this. Learn about these peppers and how to use them in Southwest cooking at one of Santa Fe's great cooking schools.

Shown about (left to right): Padron peppers, red chili peppers and jalapeno peppers
Santa Fe School of Cooking which has a long history...more than 25 years. It is rated #1 in Tripadvisor for all culinary schools in Santa Fe. The school is located in a great location and set up for Recreation Courses. The school also has a store where you can purchase a wide variety of cooking ingredients from New Mexico. Both hands-on and demo courses are available. Course examples; Tacos, Rellenos, Mole and more ..-- Website for Santa Fe School of Cooking --- TripAdvisor rates Santa Fe School of Cooking #1 . see calendar of courses.
Santa Fe Culinary Academy-
The Santa Fe Culinary Academy's one-year Professional Culinary Program is designed to prepare students for a future in the food service industry. Our approach embraces relevant, long-standing methodology and classical French technique as a foundation for modern procedures. The school also runs a series of community classes which contain a short number of recreation courses.
NAPA Valley California -- Wine Country
Culinary Institute of America -- Greystone- a--is considered one of the best culinary schools in the world. Although designed to train professional chefs it has a large program for - Food and Wine Entusiasts. There are also a number of day courses and demonstration courses available. it is located in St. Helena California -- heart of the wine country.
New York City
--Institute of Culinary Education - Brookfiled Center New York City ---Most won't think of coming to NYC for a Recreational Cooking School, but considering we rated ICE as the best Culinary School in the Country and they have such an extensive number of Recreational Courses we rate it also as the Best Recreational Cooking School in the US for home chefs that want to mi travel with cooking. From a Knife Skills Class - To classic cooking ... Modernistic Techniques in HydroColloids... What also makes ICE great for the traveler is it's location. Located in Brookfield Place the area is full of great restaurants and just blocks from Tribecca and Wall Street Take a tour of this school and you will be back to study either a single or multiple courses ... -For more information take look at our full review for ICE's Professional Programs.
COOKING SCHOOL SITES:
Cooking on the Cotes d'Azur -- Chrsitian Plumail -- Former Chef Owner of Michelin Restaurant L'Univers now gives private lessons.
Top 10 cookery schools in Europe
French Cooking Classes -- A listing of French cooking classes from France.fr. List includes major cooking schools, michelin restaurant chefs including: Alain Ducasse and Atelier Guy Martin (chef of Grand Vefour.
Italy's Top Cooking Schools -- F&W went to 11 elite, Italy-focused travel advisers and asked them which schools their picky clients love most. Here, the new and classic programs that came out on top.